This 1,600-seat Art Deco landmark has seating and a mezzanine, and plays host to a wide range of shows – everything from rowdy band gigs to giant dance parties and stand-up comedy revues. Spill onto Enmore Road for dinner and a drink after.
Where to eat and drink near the Enmore Theatre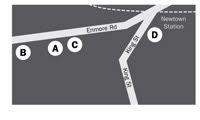 Dinner: Faheem Fast Food 196 Enmore Rd, Enmore 2042. (02 9550 4850).
Drinks: The Duke of Edinburgh 148 Enmore Rd, Enmore 2042. (02 9519 1935).
Kick on at: Town Hall Hotel 326 King St, Newtown 2042. (02 9557 1206).
 
Grab yourself a cold schooner and even a pre-gig game of pool at the Duke (A). Forgo the bistro menu (trust us) and head a couple of doors up the road to Faheem's (B), one of Sydney's best curry joints (no booze though – it's an Islamic place). Not yet ready to call it a night? The Townie (D) is the spiritual home of grungy rockers and indie kids in Newtown and is open until late every night.