This once shabby tomato sauce factory is now the entirely respectable Belvoir St Theatre, home of company Belvoir, which stages productions in its intimate 350-seat Upstairs Theatre and its more intimate 80-seat Downstairs Theatre.
 

Belvoir's 2014 programme is chock full of young talent and radical visions.

 

Check out the cheap ticket deals available at Belvoir - and other theatre companies in Sydney.
Where to eat and drink near the Belvoir St Theatre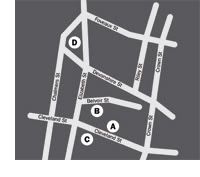 Dinner: Porteño 358 Cleveland St, Surry Hills 2010. (02 8399 1440).
Kick on at: Ding Dong Dang 7 Randle St, Surry Hills 2010. (02 9281 9000).  

Arrive early to beat the crowds at Porteño (A) - order a kingfish ceviche and some crisp-skinned suckling pig. It's a short skip over the hill to Belvoir (B). Afterwards, chill out with a Rio Grande back at Porteño's upstairs Gardel's Bar, or a beer at the trendy Norfolk (C). Lost those inhibitions? Good. Get a room over at karaoke bar Ding Dong Dang (D) and sing power ballads till 3am.